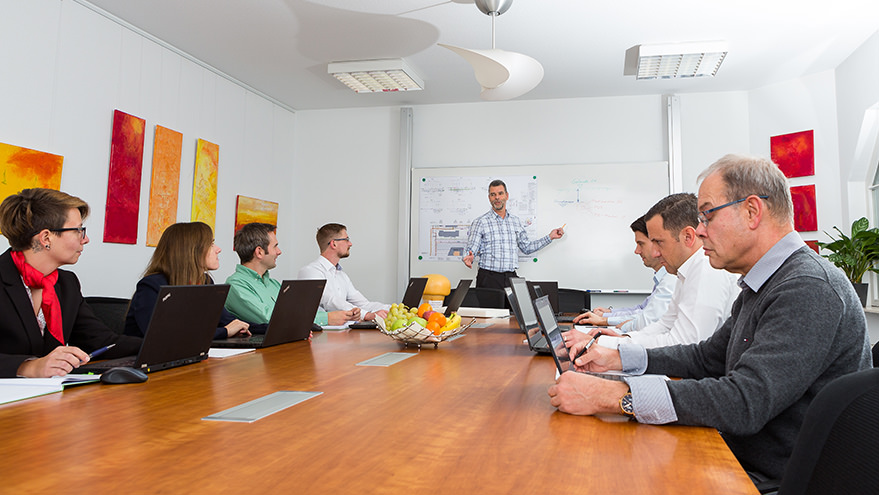 We offer users solid and proven training courses for the safe use of the program and the technical background.
Our training philosophy
We want you to achieve maximum learning success with us and not waste your time on ineffective training. That is why we use tested training methods to ensure optimal results.
We carefully differentiate the interests and prior knowledge of the participants as well as the focus of the assignment.
Accordingly, we offer suitable solutions for every group of participants:Add block
For beginners and advanced users
Individuals and groups
On site or at GEF Ingenieur AG
Individual training on request
Trainer
Our trainers come from the project and consulting business without exception. The theory must not be neglected, but we are convinced that specialist knowledge can only be successfully conveyed if it has practical relevance. Of course, our trainers also have the didactic and methodological skills to convey this know-how easily and understandably. An important goal is to teach you the necessary security and fun in dealing with the topic. The assessments of our training participants testify to the high quality of the knowledge transfer.Add block
Training Schedule
You can also individually arrange all training courses with us. We are flexible in scheduling and local planning and always strive to realize your desired date.Add block
Execution
During the course of the process, we constantly take care to offer you a pleasant, optimal training environment. Furthermore, regular feedback discussions ensure that you do not lose track with the learning content and the speed of learning. Should you during the training determine for example, that a topic is of particular interest to you, we can deal with it in this way.